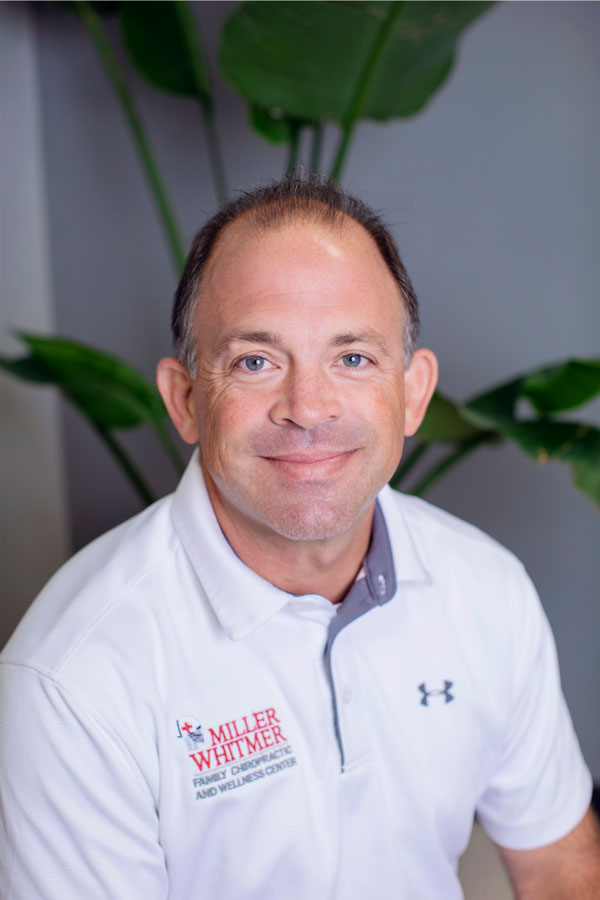 Dr. Steven Miller
Board Certified Chiropractor
Biography
Dr. Miller was born and raised in Long Beach, Mississippi and has a love for helping people that began at a very young age. Dr. Miller attended the University of Southern Mississippi, and from there went on to receive his D.C. from Parker University in Dallas, TX. Following graduation, he returned to his hometown of Long Beach, MS to open his practice, Miller-Whitmer Family Chiropractic, in 2002. Dr. Miller is highly regarded on the Gulf Coast as a leading chiropractor, working with a wide range of conditions to treat thousands of patients.
Dr. Miller specializes in the care of mild to severe injuries; as well as the diagnosis and treatment of neurological, orthopedic, and musculoskeletal disorders. Dr. Miller is Board certified on both the state and national levels, as well as Board Certified in Chiropractic and Therapeutic Modalities. In addition, Dr. Miller is a member of the Mississippi Chiropractic Association, the International Chiropractic Association, the American Chiropractic Association, and the International Chiropractic Pediatric Association. He has been recognized by the International Association of Chiropractors as a world-wide leader in healthcare, and as a top chiropractor in Long Beach and Gulfport, MS. Dr. Miller also has received the prestigious award of Advanced Certification of Competency in Whiplash and Brain Injury Traumatology from the Annual Spine Research Institute of San Diego Conference in 2012.
Dr. Miller is devoted to the care of his patients, working with other doctors along the coast to achieve success in patient wellness and pain relief. His commitment to healthcare and helping others extends beyond his own practice. He devotes himself to working with all doctors of the community, and is an Associate Professor for Palmer College of Chiropractic's Internship Program. In addition, Dr. Miller works with the Long Beach High School and West Harrison Central High School athletics programs as their team doctor.
Since opening his first practice, Dr. Miller has also opened the Spine Institute of Mississippi which is located in Gulfport, MS. He continues to be recognized as a hard-working and loving figure in the community, and has dedicated his life to offering the highest quality of healthcare. Dr. Miller looks forward to continuing to help the people of the Mississippi Gulf Coast and plans to expand his practice to other areas in the near future.
Credentials, Certifications, & Qualifications
Advanced Certification in Whiplash & Brain Traumatology

International Chiropractic Pediatric Association

Member of the MS Chiropractic Association

Member of the American Chiropractic Association

Member of International Chiropractic Association

Member of Spine Research Institute of San Diego